(S032E03) Previous Episode
Aired On 2020-10-11
Lisa stays home from school to explore the wonders of Western art. She appears as Lisanardo, while Bart takes the shape of a French impressionist, Homer and Marge as Diego Rivera and Frida Kahlo, and Maggie as a warrior Cupid.
Next Episode (S032E04)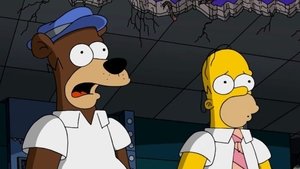 Airs On 2020-11-01
The 31st annual Simpsons Halloween special includes a frightening look at the 2020 election, parodies of Pixar and Spider-Man: Into the Spider-Verse and a ninth birthday Lisa just can't get over.
Comedia americana de animación creada por Matt Groening para la compañía Fox. La serie es una parodia satírica del estilo de la clase media americana encarnada por una familia con ese mismo nombre, compuesta por Homer, Marge, Bart, Lisa, y Maggie Simpson. La trama se desarrolla en la ciudad ficticia de Springfield y parodia la cultura, la sociedad, la televisión estadounidense y muchos otros aspectos de la condición humana.