(S031E017) Previous Episode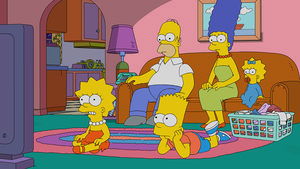 Aired On 2020-03-22
When Maggie goes to preschool, Marge decides to get a job to pass the time and ends up working at an upscale weed dispensary; Homer decides to open his own dispensary that mimics a sketchy drug deal, putting their two businesses at odds.
Next Episode (S031E018)
Airs On 2020-04-19
Sorry, we don't have a plot summary for this eposide yet.
Comedia americana de animación creada por Matt Groening para la compañía Fox. La serie es una parodia satírica del estilo de la clase media americana encarnada por una familia con ese mismo nombre, compuesta por Homer, Marge, Bart, Lisa, y Maggie Simpson. La trama se desarrolla en la ciudad ficticia de Springfield y parodia la cultura, la sociedad, la televisión estadounidense y muchos otros aspectos de la condición humana.